Water Distribution Industry
... providing long lasting & new age "GREEN" solution to ageing Infrastructure.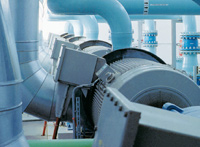 Water Distribution has become one of the principal end-markets for our products. We expect demand in this market to continue to grow over the next few years.
Application and products :
Pipes are used in cross country transmission, city Water Distribution networks and urban developments of potable water systems:- GRP/FRP Pipes
Access systems :- Stairs and decking, Ladders, Gratings, Handrails, cable trays, FRP manhole etc.