Oil and Gas Industry
... providing long lasting & new age "GREEN" solution to ageing Infrastructure.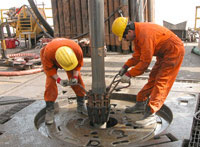 Greater spending on exploration and production, as well as increased exploration of non-conventional sources which typically required more complex piping systems, has made Oil & Gas a growing market and ensures a continued demand for pipe systems.
Rising oil and energy prices have also supported demand for pipe systems as well as strong economic growth and significant recent investments in the Oil & Gas market over the past few years.
Application and products :
In the Oil & Gas end-market, pipes are used in refinery piping, exploration, crude oil transmission, line pipe, flow lines, injection lines (water and gas), gas transmission lines, offshore platform piping, floating production storage and off-loading, sub-sea piping and marine piping on vessels:- FRP/GRP/GRE pipes
Access Systems:- Stairs and decking, Ladders, Gratings, Handrails, cable trays etc.