Building & Infrastructure Industry
... providing long lasting & new age "GREEN" solution to ageing Infrastructure.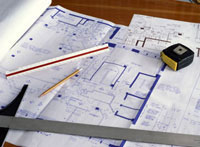 Building, construction and infrastructure applications require lasting performance. Pultruded composite profiles outperform any other plastic material on mechanical properties. High performance reinforcements such as glass and carbon fibers, even can match competition with metals.
Low weight and hence easy installation, thermal insulation and stability, electrical insulation, durability in very corrosive environments, are only a few of the added benefits of composite profiles.
Application and products :
Access systems :- Stairs and decking, Ladders, Gratings, Handrails, cable trays
Window and doors:- Window frames, Door frames
Tools Handles:- Various pultruded profiles
Public utilities, irrigation networks, storm water and surface water drainage, sewer systems, the transportation of waste and sewage, district cooling and heating systems, and urban firewater systems:- GRP/FRP pipes