FRP, GRP & PA System Canopy Manufacturers
… providing long lasting & new age "GREEN" solution to ageing Infrastructure
Our enormous range of products includes FRP / GRP canopy has become exceptionally prominent in the overseas market. Made of sublime quality raw FRP materials, these products offer precision and ideal scope to different electrical installations. Owing to their high sturdiness & quality and sufficient safety against unfavourable climate conditions, our products have earned the commendation of our clients.
Aeron is a reliable manufacturer of FRP, GRP canopies, FRP instrumentation canopies, motor guard canopies, and PA system canopies in numerous specifications. The range of canopy products is water resistant, durable, anti rust, easy to maintain, built in paint, and cost effective. We are authentic suppliers and exporters of FRP GRP profiles. Every profile is manufactured with resin matrix and fibre reinforcement to get utilized by diverse industrial clients.
Salient Features of Motor Guard, Push Button and Junction Box Canopies
100% CORROSION FREE│ UV PROTECTED │ INSULATING MATERIAL │ LIGHT WEIGHT │ EXCELLENT RESISTANCE TO CHEMICALS/ACIDS│VERY EASY TO INSTALL │ LONG LIFE │ FIRE RETARDENT│ MAINTENACE FREE │ELECTRIC SHOCK PROOF │ ZERO ENVIRONMENTAL EFFECT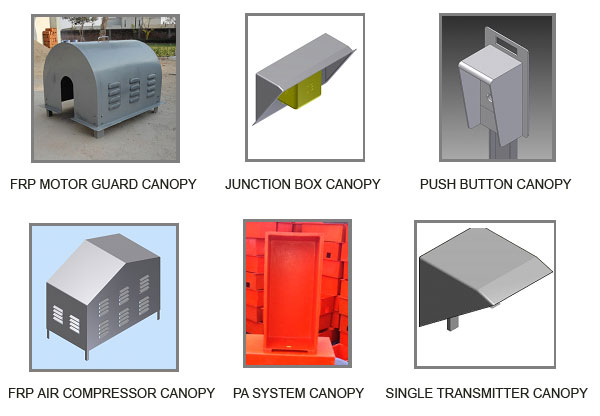 FRP MOTOR CANOPY SPECIFICATION

FRP protection canopy for instrumentation and electric equipments
We configure canopies that guard your motors. The span of the motor protection shell is focused around the physical measurements of the motor cover it is so that a uniform leeway of no less than 50mm is kept up on all sides concerning the motor body with the end goal of – proper circulation of air along with the louvers and for the ease of installation or lifting.
PROPER CIRCULATION OF AIR ALONG WITH THE LOUVERS
FOR THE EASE OF INSTALLATION/ LIFTING
It should cover the motor fully to protect from
Rain water
Chemical or water spillages
Heat
Dust
Hit of falling objects
SPECIFICATION SHEET
| PARAMETERS | SPECIFICATIONS |
| --- | --- |
| MATERIAL OF CONSTRUCTION | FRP |
| TYPE OF RESIN | ISOPTHALIC/ GENERAL PURPOSE |
| GLASS FIBRE | CHOPPED STRAND MATT |
| SHAPE & SIZE | AS REQUIRED |
| COLOUR | LIGHT GREY |
| THICKNESS | 3 TO 5 MM |
| LOUVERS | YES |
| HANDLES | YES |
| FINISH | OUTSIDE SMOOTH FINISH (ONE SIDED FINISH |
| SUPPORTING | AS REQUIRED AT SITE BY FRP ANGLES /CHANNELS |
| CORROSION RESISTANCE | YES |
| UV STABILIZED | YES |
| MOULDING PROCESS | CONTACT MOLDING PROCESS |
| FLAMMABILITY | LOW FLAMMABILITY |
| GLASS CONTENTS | 30 TO 33% |
| OXYGEN INDEX | 27 TO 30 |
| FLAME SPREAD INDEX | 14 TO 15 |
SELECTION TABLE FOR NFLP MOTORS
FRAME SIZE
HORSE POWER
3000RPM
1500RPM
1000RPM
80
1 TO 1.5
0.75 TO 1
0.5 TO 0.75
90
2 TO 3
1.5 TO 2
1 TO 1.5
100
4
3 TO 4
2
112
5.5
5.5
3
132
7.5 TO 10
7.5 TO 10
4TO 7.5
160
15 TO 25
15 TO 25
10 TO 15
180
30
25 TO 30
20
200
40 TO 50
40
25 TO 30
225
60
50 TO 60
40
250
75
75
50
280
100 TO 125
100 TO 125
60 TO 75
315
150 TO 230
150 TO 230
100TO195
355
320 TO 390
305 TO 365
245 TO 285
400
440 TO 520
440 TO 520
380 TO 435
FOR FLP MOTORS - PLEASE CONSIDER THE NEXT HIGHER SIZE OF CANOPY
FOR H.T. MOTORS - PLEASE ADVISE US THE DIMENSIONS