FRP/GRP ROOFING SHEET
… providing long lasting & new age "GREEN" solution to ageing Infrastructure
Aeron make rooflight sheets allows natural daylight & creates a positive working atmosphere under industrial roof.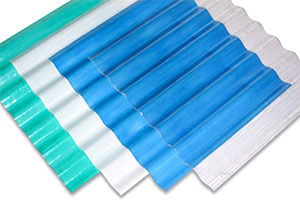 Why Aeron's FRP/GRP Sheet
Chemical and Corrosion Resistance.
Life of Aeron FRP/GRP sheet would be more than 25 years
It has good thermal Resistance / Insulation.
Machine made sheet ensure uniform quality.
Zero maintenance
Quick Installation.
Using high quality of basic raw material.
Protecting against U.V.Rays by using imported U.V Stabilized Resin.
Specially formulated top layer to retards the effect of abrasion, erosion and enhances its increases product life.
Consistency of uniform thickness throughout the Sheet ensures good quality and high mechanical strength.
A unique embossed / crinkles finishing gives scattered natural daylight distribution under the roof.
Colours: Clear, Translucent & Opaque.
Type of Roofing Sheet

Colors

Technical Specification Of Machine Made FRP Sheet
| Description | Machine Made FRP Sheet |
| --- | --- |
| Brand | AERON |
| Model | Any type # |
| Color | As required |
| Width | 1500 mm (Stretch) |
| Length | No restriction |
| Thickness | 1 - 4 mm |
| Unit Weight | Depend on type |
| Tolerance | + or - 10% (As per standard) |
| Capacity | 50,000 Sq.mtr/month |
| Resin | G.P/ Roof lite/Isophthalic/ Vinylester |
| Glass Content | Not Less then 25% |
| Gel Coat | Top side with any resin (optional) |
| Warranty | 5-10* years |
| Applicable Standard | IS 12866 |
| Unit Price | Depends specification and thickness |
* Depending upon thickness, environment & resin selection
# Sample or final drawing from client mandatory
Applications
Terraces
PEB & semi-PEB structures
Patios
Warehousing
Garages
Green houses
Factory buildings
Balconies
Cooling towers