Electrical Industry
... providing long lasting & new age "GREEN" solution to ageing Infrastructure.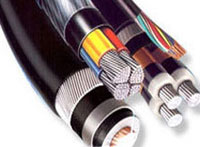 Insulating properties of FRP composites makes Aeron FRP products applicable in electrical industry.
Typical application areas include e.g. composite insulators and arresters, composite profiles for electrical machines, insulated ladder profiles, insulated handling systems and electrical distribution devices.
Access systems :-Safety ladders, telescopic ladders.
Insulation system :-Telescopic operating rods, insulation rods, Cross Arms.